Knime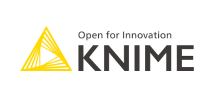 KNIME is an open-source Analytics Platform, focusing on the authoring of DSML workflows and projects. As a commercial product, KNIME Server focuses on automation, deployment, and orchestration capabilities. KNIME is globally diversified, with a strong presence in Europe and the U.S. Its client base spans all industries and company sizes.
KNIME continues to evolve and develop its vision for bridging the gap between development and production and offering new ways for data scientists and end-users to collaborate.

Partnership impact
Axtria has developed strong InsightsMAx™ capabilities with KNIME by building internal capacity and delivering Data Science consulting projects for pharma customers leveraging InsightsMAx™. We have more than 200+ certified and trained resources on KNIME.
Deploy a fully scalable global model, of talent and services to enable best of breed analytics.
Pre-built, proven, and continuously evolving data and analytics templates based on 10+ years of experience.
Streamline business/IT systems and processes with a common layer for a workbench, analytics, orchestration, and business applications.
Embed analytics at the point of decision to improve top-line growth and bottom-line optimization.
For co-creation, management, and dissemination of analytics to enable cross-functional personas across the business, analytics, and technology.
Quicker time to market and response times, self-serve capabilities, and enhanced collaboration leading to a competitive advantage.
About Axtria InsightsMAxTM
Axtria InsightsMAx™ is a cloud-based, unified analytics product built for the Life Sciences industry, with a rich reusable library of data preparation capabilities and analytics models across sales, marketing, payer, patient, and trade domains. Axtria InsightsMAx™ allows for the collaborative development of analytics and facilitates interactive decision making across diverse personas within the business.
Sign up to get the best-curated content
straight to your inbox
Subscribe to our library updates
Be the first to access our thought leadership content, webinars, videos, podcasts and more!