Embed artificial intelligence (AI)/machine learning (ML) to address critical life sciences business needs
Trial design > Target identification > Forecasting > Personalized promotion > Next best action (NBA) > Patient adherence > Better patient outcomes
What Axtria can do for you
At Axtria, AI is not the next wave of innovation for the life sciences industry. It is already here, changing patients' lives.
We are beginning to see the impact and real-world value that AI is bringing to the life sciences industry. It helps healthcare professionals (HCPs) detect, diagnose, and treat disease, speed recovery, and save lives. AI expedites information processing, making marketing decisions faster and provides more accurate insights to every stakeholder. It enables agility, efficiency, and transparency across every facet of commercial operations, making sales reps smarter and in charge of their work.​ AI is the key to powering your growth.

Critical business solutions offered by Axtria
Drug adoption analysis
Identify targeting opportunities for a launched drug
Identify key attributes of prescribers that are most likely to adopt the drug
Drug adherence estimation
Non-adherence likelihood scores
Identify the key drivers of drug adherence to help design the intervention program
Improved call plan
Validate plan designs with AI/ML simulation and what-if analysis in Axtria SalesIQTM
Sales forecast accuracy
Reduction in lost sales and portfolio automation, leveraging ML for demand planning
Next best action
Determine the next best channel strategy and the content
Automate and deploy the final channel-content recommendation engine
ML-driven field force insights
Identify the drivers and barriers to drug prescription at individual HCP level
Generate HCP specific insights and recommended action for field force
Patient misdiagnosis estimation
Evaluate and determine likelihood of the patient being misdiagnosed
Data management and governance
AI/ML/RPA-enabled Intelligent data management
Smart data stewardship – Analytics and AI/ML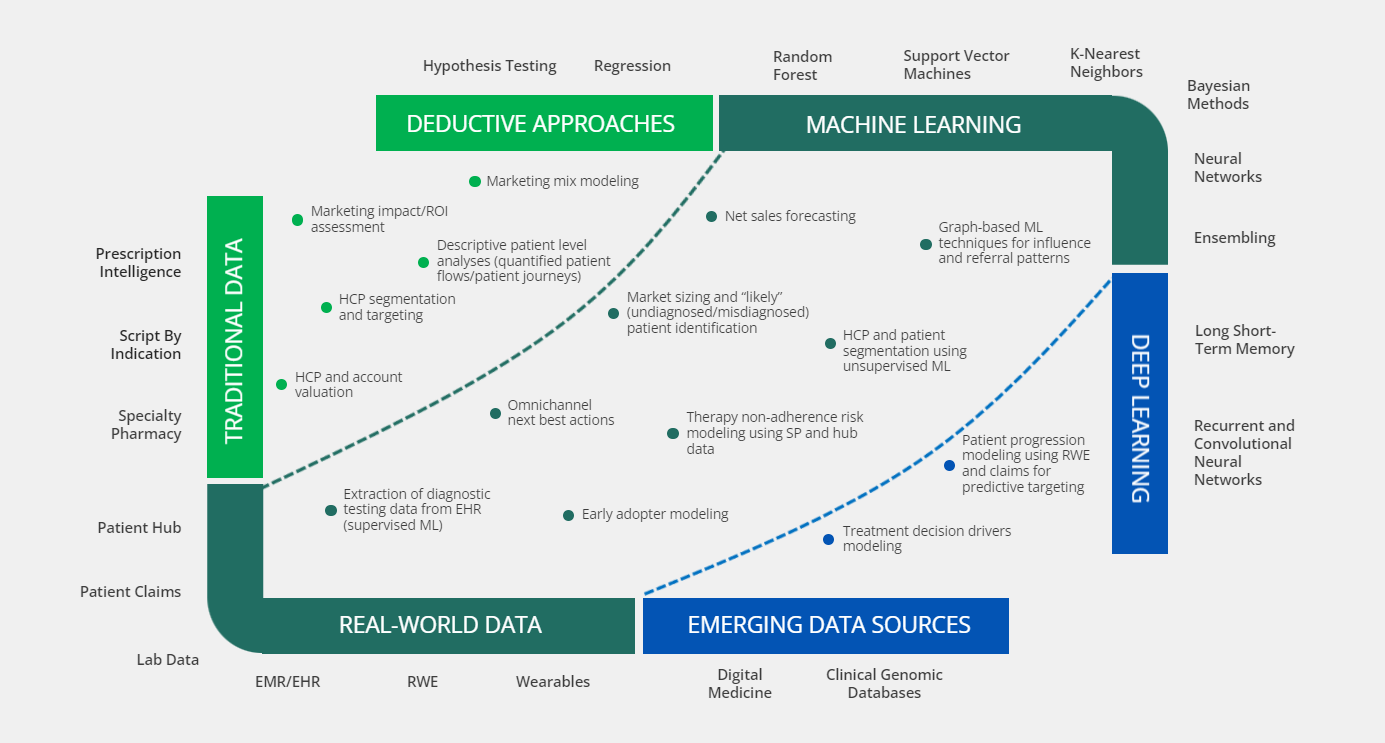 Sign up to get the best-curated content
straight to your inbox
Subscribe to our library updates
Be the first to access our thought leadership content, webinars, videos, podcasts and more!