Segmentation and targeting capabilities
Segmentation design
Construct sophisticated customer segments that are internally homogeneous and distinct. . Additionally, these include portfolio-based and affiliation-based segmentation.
Segmentation analysis and simulation
Simulate workload balancing and segmentation scheme changes that affect workload balancing.
Customer targeting
Account for unique market attributes, including structure, competitive situation, and channels.
Typical benefits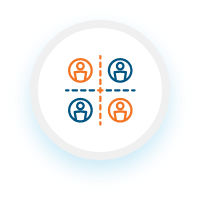 Accurate customer segments
Flexibly identify (based on needs, behaviors, and attitudes) and profile the customers needed to drive your business.

Actionable insights
Insights such as segments to enter or exit, and segments with the greatest value potential.

Driving downstream processes
Customer segments utilized for downstream processes, such as call planning, response modeling, and sales force sizing and structure.

Increased engagement
Personalized marketing strategy targeting each customer segment with relevant messaging at an optimal time and frequency to increase rep targeting effectiveness.

Standardized business process
Faster and targeted go-to-market with flexibility across markets and brands.
Collaboration and transparency
Global one-view of strategy and tactics to ensure consistency and scale.
Sign up to get the best-curated content
straight to your inbox
Subscribe to our library updates
Be the first to access our thought leadership content, webinars, videos, podcasts and more!