Preparation for an omnichannel future is as important as the destination
Omnichannel is not new! The customer experience 'nirvana' has changed shape over time. But what's important to get there? Do organizations define their goals and have the tools to go further when they reach their omnichannel goals?
Some dimensions to think about: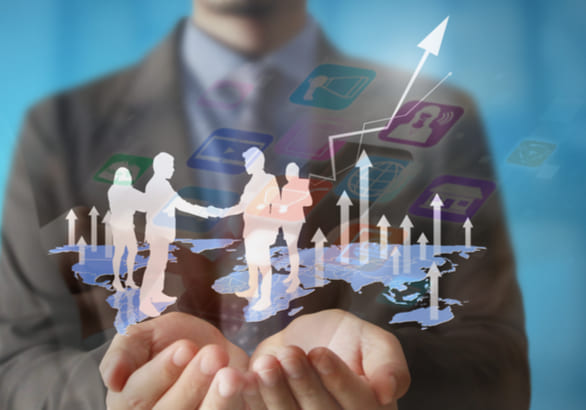 Is the current 'customer-experience-state' good? What should be the future state?
Do we have the data to make the decisions? How much is enough?
Already have a 'multi-channel strategy', is it the same as omnichannel? What's the difference?
How will 'sales reps' be integrated into an omnichannel?
Is software and technology needed to get up to speed or to imbibe an edge?
What existing systems and processes can be reimagined or repurposed?
What's the opportunity cost, is it worth it?
What we do to enable an omnichannel future – our expertise
Work with you on your strategic and tactical objectives
We put ourselves in your shoes!
Axtria's extensive software and AI-driven omnichannel expertise kicks-in when we need them to.
Partner led strategic imperative determination and calibration – current to future state
Workshops to determine stakeholder impact and milestones
Clear governance and roadmap for change management
Determination of the 'Aha' moment, handholding to future
Not just 'office,' Axtria's omnichannel expertise includes re-imagining sales rep roles
As pharma reps' roles evolve, one pattern is evident: the traditional reach and frequency-based approaches are no longer adequate for pharma selling.
The commercial model is increasingly complex, with more roles requiring greater coordination
The industry is focusing more on customer experiences. Reps need to be master orchestrators in providing the right message to the right customer using the right channel at the right time.
Working in silos is not enough. Instead, organizations must reevaluate their end-to-end field operations processes to enable the field force to work in these new ways.
Data-driven transformation rather than trend and hype.
Move focus from siloed impact with:

NBA
Triggers
MCCP
Customer 360

To building cross-functional infrastructure:

Optimal data for rank and file
Integrated systems across functions
Seamless flow and consumption of insights
Automation and AI to ease execution
From HCPs to most important customer – Patients
Omni implementation is only successful if customized to the needs of the stakeholders and specific products of the company:
Drug type, technology and delivery to patient
Therapy area
Patient needs – population size, journey and financial needs
Specific HCP needs
Payer needs and interactions
Pharmacy
A holistic and integrated ecosystem to deliver a seamless omni future experience
Not just Axtria's integrated product ecosystem, even the outcomes are calibrated to achieve objectives
Drug type, technology and delivery to patient
Therapy area
Patient needs – population size, journey and financial needs
Specific HCP needs
Payer needs and interactions
Pharmacy
Omnichannel Use Cases
Role of HCP with Omnichannel Patient Centric Approach Pharma Use Case
Omnichannel Program & Valuable Data Collection with AI Algorithm – HCP Rep Use Case
Omnichannel Campaigns to Enable New Treatment Options for Patient Use Case
How we approach the omnichannel future 'challenge'
Mindset & strategy
To effectively understand your customer experience needs a considerable effort needs to get the organization rolling on the path to the omni-future state!
It begins with acknowledging the current and preparing for the future
Stakeholder
Organizations need to know the extent of all stakeholders' influence on their business. How their (seen and perceived) interactions can impact the business.
Payers, Providers, Policymakers, and Patients form an important part of the ecosystem!
Software & tools
Software and technology are enablers and accelerators to change.
From complex interactions between stakeholders to implementation of strategy through the organization – technology can be a winner!
Change management
Hand-offs don't need to be difficult. Transparency, inclusion, and impact are a part of future-readiness.
With a little effort, people, processes, systems, and mindsets can be enabled for next-level objectives
People
Omnichannel includes peoples from every aspect of thinking and delivery. A seamless handoff between future roles of people in the omnichannel reality is determined by strong leadership of rank and file.
Making change last!
Sign up to get the best-curated content
straight to your inbox
Subscribe to our library updates
Be the first to access our thought leadership content, webinars, videos, podcasts and more!