AI/ML and Natural Language Processing (NLP) solutions
New era of individualized care, better patient health outcomes and improved ROI
Precision medicine
Develop targeted clinical trials and companion diagnostics using model-driven research and machine learning algorithms
Build cloud infrastructure and data governance to ensure secure easy collection, flexible access, and intensive analysis
Digitalize and analyze varied data from different sources, including images, PDFs, EHR, wearables and sensors, social medial, and more.
Unstructured data analyics
Apply artificial intelligence to leverage large quantity of new age and/or unstructured data, integrate it into meaningful insights and pharma and healthcare provider workflow , including:
Rule-based text analytics
Image and text file classification
Scanned file recognition
PDF conversion, and
Facial recognition
Advanced sales analytics
Apply machine learning algorithms to improve sales decision making on individual, management, and executive levels
Achieve increased sales through giving pre-emptive and proactive next best actions on individual sales rep level
Lower percentage of failed sales attempts through improving targeting and sales methods
Develop visualization and CRM integration for commercial organizations
Wearable, real-time data analysis
Deploy big data infrastructure and analytics to handle various new-age data sources to produce dashboards, reports applications and insights.
Integrate process and outputs in client environment, smartphones or HCP's Epic Systems.
Utilize and contributing to open source resources such as Google APIs to develop real time applications to improve user/patient health, efficiency, and holistic systems.
AI/ML technology expertise
Axtria leverages advanced AI/ML algorithms to address multiple business needs. We have extensive experience with all core AI/ML technologies for life sciences, including:
KNIME
APACHE Spark
Rapid Miner
PyTorch
Google AI
TensorFlow
Azure Machine Learning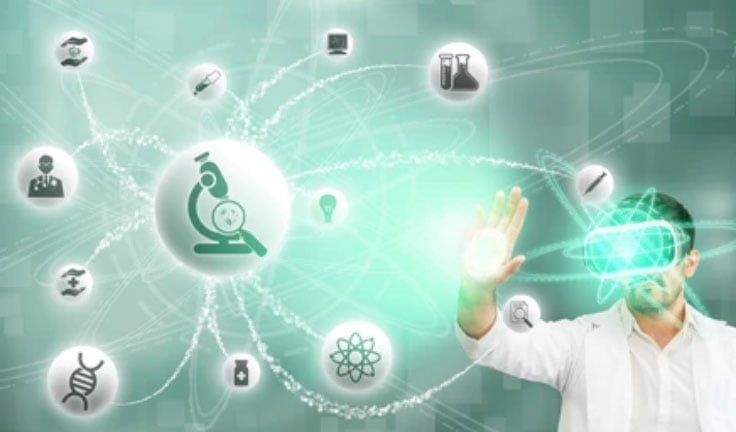 What it means and what it can do for the life sciences organizations
AI/ML techniques have found application across drug life cycle stages. Though slow to adopt, life sciences companies are leveraging AI/ML in newer fields with innovative approaches, and it has the potential to unlock several new avenues.
Faster R&D and Drug discovery
Early Diagnosis/detection
Patient identification
Precision medicine & personalized care
Improved drug adherence
Next best actions
Real-time actionable insights for all stakeholders
Sign up to get the best-curated content
straight to your inbox
Subscribe to our library updates
Be the first to access our thought leadership content, webinars, videos, podcasts and more!